Once On This Island!
​Coming Next Week to AW!
By Faith Amero

​​This touching and catchy Caribbean-flavored musical is a highly original adaption of Hans Christian Andersen's fairytale The Little Mermaid. This non-stop song and dance, Once on This Island Jr. tells a of Ti Moune, a peasant girl who rescues and falls in love with Daniel, a wealthy boy from the other side of the island. When Daniel returns to his people, the gods who rule the island guide Ti Moune on her quest that tests her strength of her love against the powerful forces of prejudice, hatred and even death.

Regardless of the size of the cast, Once on This Island shows minimal but colorful sets and costumes that captures the audience's imaginations. The creative movement is the part of the show's style, calling on the performers portray trees, animals and even a fierce rainstorm. I was able to interview some of the lead roles like Julia (TiMoune), Aidan (Daniel), Luca (Papa Ge), and Arnelda (Erzulia) and some minor roles like Beth (one of many storytellers), Sophia (one of many gossipers).Also, I got to talk to some Stage Crew Members Claudia and Tyler (Stage Manager and Assistant Stage Manager), and Jared who is a part of Stage Crew.

Q1: Is it hard to play your part or doing your job?
Julia: Sometimes. Some parts are than others.
Luca: In beginning yes because it's my first year doing the play. When I got to the middle and the end it was a lot easier and I just got used to it.
Claudia: I have experience and I know how things works so I feel like the boss of the cast and crew.
Tyler: No because I do whatever Claudia tells me to do. I don't find it hard but it's tiring. I find it more fun than hard.
Aidan: No because all I've been doing is laying down on the stage.
Arnelda: Not really. I like to sing the songs especially with my part and the song suit my voice.
Sophia: To me it's more fun than hard.
Beth: Sometimes because of the plot twists and some of the staging in hard to master.
Jared: I haven't done anything because I'm apart of Stage Crew.

Q2: Do you enjoy the play so far?
Julia: Yes I love it. It's fun to be a part of an amazing cast.
Luca: Yes. It is a lot fun and it's a new experience for me.
Claudia: Yes, I really like the music it's better than last years.
Tyler: Yes I like the play. The music is really good and I like the transitions.
Aidan: Yes, it's fun. It's not exciting at the moment but as the play goes on it's embarrassing
Arnelda: Yes, I like the characters, the music and the style of the play.
Sophia: Yes. It's really fun and I like the people singing and dancing.
Beth: Yes, to me I can let myself go and I can make friends.
Jared: No. I haven't seen it.

Q3: Is there any spoiler alerts you can tell without giving away the play?
Julia: Lots of trees.
Luca: I'm the one who turns Ti Moune into a tree. Also I'm evil.
Claudia: There isn't really. Ti Moune blocks/breaks/connects the rich and the poor.
Tyler: It's a fight over love and death.
Aidan: Someone dies.
Arnelda: The Gods of Love and Death not friendly.
Sophia: I'm good at spoiling things so no.
Beth: Ti Moune and Daniel meet under unfortunate circumstances but they make the best of it.
Jared: The main character turns into a tree.

Q4: What is the best part of the play without giving anything away?
Julia: Dance numbers and singing as a group.
Luca: Probably, "Forever Yours" because it's the big climax of the whole play. It's like I turn life around for Ti Moune.
Claudia: The transitions and the changing of the scenes with closing the curtains.
Tyler: I like the beginning because it introduces all of the gods.
Aidan: The end because it's more of a full circle ending.
Arnelda: When Ti Moune and Daniel first meet.
Sophia: When I sing.
Beth: The dances are fun and exciting and they look cool. The dances are elaborate, creative and flowy.
Jared: When Abby sings her solo.

By Alania Okun

Have you ever heard of the Once On This Island the musical? Most people haven't! But that small group that has, did you know your very own middle school is doing Once On This Island JR??Well, it's true. Julia La'sala (8th grader) and Aidan Ferell (8th grader) carry the leads of this tragic show. Julia plays Ti Moune, a peasant who has lots of hope. Aidan plays Daniel, a grand homme with lots of money. What happens when the Gods (Gianluca Yannuzzi-Papa Ge, Arnelda Selmani-Eurzile, Noah Sandler-` Agwe and Sophie Kim-Aska) place a bet on what is the strongest, love, storms, earth or death. Come follow the entire cast onto a tropical island and see what really is the strongest. Who will win?

An Interview with the Cast


By Alaina Okun

Writer: Who do you play in the musical?

Alaina: I play a villager and I am featured in the dancers section.

Writer: Which God do you think is the strongest and why?

Alaina: I find love is the strongest, it can withstand the storm, cross till the end of the world, and conquer death.

Writer: what made you wanna do the musical?

Alaina: i've been watching it for 2 years and easily impressed. This musically seemed different, and those who know me know i love being different.

Writer: And lastly, would you consider acting again in the future?

Alaina: yes, you get to see other people's perspectives on things like life.

Writer: And lastly, what would you think would draw people to the musical this year?

Alaina: It's different, there is a fun and tropical feel to make the audience feel like they are on the island with the cast.

Writer: What's your favorite song in the musical?

Alaina: I love Human Heart, the Forever Yours Reprise and Ti Moune.

Writer: Any spoilers?

Alaina: Let's just say you will be weeping at the end.

Writer: thank you for your time Alaina, and I can't wait to see you own it!

Julia La'sala

Writer: Who do you play in the musical?

Julia: Ti Moune

Writer: Which God do you think is the strongest and why?

Julia: Erzulie because love is stronger than everything.

Writer: what made you want to do the musical?

Julia: i love performing and i have done the musical since 6th grade and i love it!

Writer: And lastly, what would you think would draw people to the musical this year?

Julia: The incredible cast and crew.

Writer:what's your favorite song from the musical?

Julia: Ti Moune and Human heart

Writer: Any spoilers?

Julia: Sorry no.

Writer: It's okay. Thank you for your time! Break a leg!
Winter Canteen Strikes AW
By:Faith Amero
The Winter Canteen is coming!!!!!!!!!!!!!!!!!! So buy your tickets… WAIT. You have to buy you tickets at the door this year. Time for us to have a party in the bounce house again. Grab your squad and take some awesome selfies and eat some snacks in the small gym.
Most of the school goes to this canteen, so there's a chance for you to go and have a wicked good time. Come the way you are and go crazy like there's no tomorrow… Also, don't go too crazy unless you're a party crasher. Just saying party crashers are amazing.
On this night, we dance, we eat, and we get airbrushed tattoos. Otherwise, HAVE FUN!!!!!!!!!!!!!!! But seriously, spend your Friday night at the canteen.
The Great RePlay Brings Fun to AW!
By Faith Amero

The Great RePlay is the throwback to the GOLDEN AGE of playground and recess games. The Great RePlay educates students on living a heart healthy lifestyle, to inspire students to engage in the mission of the American Heart Association. The Great RePlay allows students to experience fun physical activity at school. Students spend most time at school and eat as many as two meals per day. Implementing strategies that help students stay healthy by eating healthy and being physically active. Students who are physically active tend to have better grades, school attendance, cognitive performance and classroom behaviors. All students have fun while learning life-long patterns for healthy living. You will develop civic and social responsibility skills to be change agents for good in their communities.

Also, parents and the community on behalf of the students and the school participation helps build a culture of health for everyone. A healthy and successful students help build strong communities. Investing in the health of students contributes to healthy communities in the future.

---
Happy New Year to Anthony Wayne Middle School!
---
​Halloween Canteen Review
​By Faith Amero

​This years Halloween Canteen was amazing… No it was awesome… even though not many people dressed up but it was still fun. In the big gym are the bounce house I only got to go on the wrecking ball, sometimes it's fun to knock you friends off,speaking of falling I almost did. I don't know how fun the other ones were but if you want to tell me you can find me in room 216 during homeroom. Anyway, in the they also had a foosball table… cool… I would've used it but I was leading a group of friends. Take any pictures SWEET the photo booth was awesome I twice, once with my friend Katie and then I went with my friends Katie, Xavier, Julia, and Chayse. Also, the had Just Dance. Just Dance was super fun even though my friends choose songs that I didn't know but it was still fun. Ever did airbrush tattoos? Believe me after you get one you could almost freeze your arm off. But they are cool… (Not freezing cool but awesome is that a better word). Face painting on the other hand was with karaoke with as my Katie was getting her face painted, Mr. Kardos was doing karaoke and it was the most funniest thing I had ever seen at AW. I never thought that karoke would be so funny as Mr. Kardos doing karaoke. Otherwise for facepainting they didn't have that many designs to pick. Karaoke was cool too! I did it with my friend Katie. I hope you had an AWesome time at the Halloween canteen.
The TREP$ Marketplace: Coming to a School Near You
Hi, I am news reporter Mohammad Asaad and I am going to tell you about the TREP$ marketplace. I will start by telling you about TREP$. TREP$ is an after school club happening in Anthony Wayne Middle School. The point of Treps is to teach students how to be businessmen. Every student in Treps comes up with something to sell and advertises it. After that they make the product and sell it at the Treps Marketplace, which is where the treps members will sell their products. The students will also advertise Their product in some way. Posters and flyers are some ways. The Marketplace is in the Anthony Wayne Gym, at December 2, 2016. We hope to see you there. Keep a look out for posters and flyers made by the Treps members. So come to the Treps marketplace with money.
Spirit Week At AWMS
By Alaina Okun
​


As some of you true Anthony Wayne Stallions may know, this week was red ribbon week. On Monday, students were asked to wear red to connect with the pun "RED-Y to turn down drugs". Tuesday, their favorite sports jersey. To "team up" against drugs. On Wednesday was wacky Wednesday and students were asked to wear wacky hair or clothes to school because drugs are wacked. Thursday, students were allowed to wear their Pj's to school because don't
you
agree that drugs are a nightmare? And lastly, on Friday students were asked to wear pink in honor of breast cancer.
Also on Wednesday, October 26th, students could've donated $10.00 to support Breast Cancer. And as a reward, they got a pink hair extension in their hair to show their peers they donated and to look what else? AMAZING!
Get Ready for the AW Canteen on November 4th!
By Faith Amero
​
​Last years
Halloween
canteen was amazing… well I heard it was?!? Now let's recap! Last year... it was like having your own party in the bounce house. You got to meet your squad in the small gym for some snacks, then take a
ride
down the hall on your toilet go-kart.
Over 650 students go to the canteen so there is a possibility of 650 different costumes. So dress in your best costume and look good while doing it… I know we are going to have some buzzkills who won't come or who comes and doesn't dress up but that's fine. Just saying...you're missing out on a lot of fun.
​
On this night we dance till 9, we'll eat till we're sick and we'll go ballistic until we can't breathe. JUST KIDDING!!!!!!! But, seriously this is how you spend your Friday Night… at the canteen.
---
Matt Mayberry: Motivational Speaker With Inspiring Story Visits AW

By Hanna Dolegowski

Do you like watching the NFL? A.K.A. Not For Long?

Well, former NFL player Matt Mayberry visited Anthony Wayne Middle school to talk to our 7th and 8th graders about choices. Mayberry spoke about his choices when he was younger and how they affected him.
When Matt was a teenager, he was peer-pressured into doing drugs. He got bad grades in school, and he got kicked off of his baseball team, where he was a top player in the U.S., for stealing money from a teammate to buy drugs. He was forced to enter a drug treatment facility and when he came back, this is when he finally ¨had the courage to look in the mirror,¨ as he recalls. It was then and there that he decided football was his last chance at a future, to get a college scholarship, to make his parents proud, and be out of misery.
​
He ended up getting a bunch of scholarships, but out of all of them, he picked Indiana. Why? Because he had a liking to their leader, Terry Hoeppner. He went on to play the NFL, signed by the Chicago Bears. His career was suddenly over when he broke his ankle, he would be sidelined for six months. Feeling hopeless Mayberry stated,¨It would be great if I were dead instead of alive." While out of football, he received an offer to speak at a leadership event with bestselling author Stedman Graham. This event changed Matt's life.

And

Matt says he turned down to play professional football again. Through all of the pain and suffering he had found his true calling. (

Forbes.com)
Now, this man travels around the world to speak about his story and teach kids about choices.

His message was heard loud and clear here at AW.
---
Powered by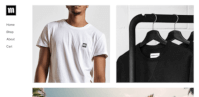 Create your own unique website with customizable templates.