MAY THE FOURTH BE WITH YOU!!!
By Sebastian Vargas
Today is STAR WARS day! The day we remember those moments when Darth Vader defeats palpatine, when Young Anakin beat Sebulba and won his freedom. We also remember our favorite characters like Yoda and…. Jar Jar Binks. So grab your lightsabers and go shwoom through this article, because we are going to celebrate STAR WARS DAY
TOP 5 QUOTES TO USE IN REALITY
"It's not my fault." – Han Solo

(Use when anything goes wrong, even if it is totally your fault.)




"Your focus determines your reality." – Qui-Gon Jinn

(Use in pep talks to encourage positivity and to remind others to take control of their fate.)




"Do. Or do not. There is no try." – Yoda

(Use when you're about to pull off a crazy stunt)




"Somebody has to save our skins." – Leia Organa

(Use when you jump in and solve a problem without breaking a sweat.)




"In my experience there is no such thing as luck." – Obi-Wan Kenobi

(Use to remind others hard work pays off and sitting around waiting for chance does not.)



http://www.starwars.com/news/15-star-wars-quotes-to-use-in-everyday-life
NASA Discovers Possible Earth-like Planets
On February 22, 2017 at 1:00 P.M, NASA made an announcement regarding another solar system. They stated that life may have developed on three different dwarf planets in the solar system. That star is around 500 million years old and is called TRAPPIST-1. At least seven planets around the size of the Earth have been spotted orbiting the star which is "approximately 8 percent the mass of and 11 percent the radius of our Sun," says Henry Bodkin on telegraph.co.uk. Life has a good chance of thriving in this solar system, with possibilities of water and reasonable temperatures. However, according to statistics, planets orbiting TRAPPIST-1 would take very few days to complete a revolution compared to Earth taking hundreds. Many people were thinking that NASA had discovered aliens before they made their announcement. Who knows? Maybe they did, maybe they didn't. But I'm excited to see what this new solar system has to offer!
-Chlopoke the explorer
​
News Around the World...The Donald Edition
By Kevin Zour
​
Donald Trump, an American businessman, a Twitter fanatic, and finally... president! He won the election and is will be president tomorrow January 20th. And we are all waiting for his new ideas and to decide if he will be a good of a president. Some people are upset about this, others are happy and excited….. Some people don't know what to think. As a kid my worries for which president is elected is not as much as an adult who is into this kind of stuff, but I'm happy he won and excited to see what new things he will bring to America. ​
Earth is the Safest Planet!!!!
By Mohammad Assad

​Earth is the best planet in our solar system because it is the only planet that supports life. Earth is the only planet with life because it has the correct temperature which is not too hot or not too cold. Some other reasons why Earth has life is it has so much water and it has air. 71% of Earth is covered by water. Earth also has the right amount of atmosphere which protects us from floating objects in space like asteroids, and prevents them from hitting us. It also blocks UV rays. UV rays are dangerous rays that come from the sun. Earth is the only planet with air which makes it safe to not wear helmets. Earth's moon is ¼ the size of Earth. It can protect Earth from asteroids by shielding it.
Other planets have no air at all. Plants and animals can't live without air unless they live underwater. Other planet's atmospheres are either too thick like Venus's or too thin like Mercury's. Thick atmospheres make the planet really hot and thin atmospheres make the planet really cold. Mars has a little water and other planets have no water at all. Other planets have small moons compared to its size or no moons at all which can't shield them from asteroids.
Earth is the best planet. All these reasons make you understand that Earth is a very special planet especially the amount of water it has. Earth is the greatest place you could go in our solar system.
​
Sully!!! The Miracle on the Hudson
By Mohammad Assad

On a cold January day in 2009, U.S. airways jetliner Airbus A320 was getting ready for take off in New York. It had 1555 passengers. The airplane took off at approximately 3.30p.m. SIx minutes after takeoff the pilots heard something and it did not sound good or look good if you were looking out the window. BAM! BAM! BAM! It was a bird strike. A whole colony of birds struck the engines and were sadly killed. It looked like a blurr. That's how fast they struck. With both engines down the "jet plane" was now a glider. There is no way they would make it to the airport. The lights went out. The pilot now had to control the Jetliner manually. He tried to find an airport to land in New Jersey since they were over the hudson, but they did not have the time or speed. "Brace for Impact" the pilot announced". "We are going in the Hudson". "Brace, brace, heads down, stay down", the cabin mates told the passengers. Everyone put their heads down against the seats so they would not be sent forward at impact with the Hudson.

Pilot Sullenberger had to land the plane at the right angle or it would either break in half or shatter. It was about 35
°.
The plane crashed, or at least that's what everyone thought. It send a giant column of water into the air and sailed forward but eventually stopped. The airliner was now a giant boat. People watching on the streets were surprised it did not sink immediately. The passengers survived the crash in the Hudson but now they will drown. The doors were popped open and one of the rafts came out. The other was jammed. The passengers legs were freezing from the water on the deck. They all went out and onto the wings. Ferries all around started coming in to the rescue. The second raft finally went off. The plane started sinking with people on its wings and the rafts were connected. The first ferry arrived and throw life jackets all over the water in case someone fell off the slippery wings. The pilot asked for a knife to cut the rafts free so they would not sink with the airplane.

More ferries arrived and rescued people they also gave them blankets. A helicopter came in and divers jumped off from a height to save people in the water. They had no time to check for people in the fuselage so they took the people to New York and New Jersey. The pilot asked to count the survivors. All 155 were alive! The plane was later pulled out of the water with only the engines damaged. And that is the story of Captain Sullenberger, or should I say Sully. This event was called the miracle of the Hudson.
​
Welcome to News Around the World!
By Kevin Zour

It is finally past Thanksgiving, and the time has come to start getting ready for winter! As you can tell, I found this new text style that just makes my writing more jolly and happy. But, I came here to talk about things we're doing in Anthony Wayne Middle School. First off, we will be having TREPS on Friday, December 2016. One of the stations will have winter goodies such as candy cane reindeer, snowmen, snowmen lights, and even more awesome items to do with the season. As we all know, we're going to have a whole week off for the holidays, which will be filled with fun, celebrating, gifts, and friends and family. There will also be a winter concert that is sure to be great! Soon the ground will be covered with snow and houses will be orned with holiday decor. So have a wonderful December and happy holidays!
Hi, Kevin Zour here to give you the latest news around the world. This section will include different things happening in the world from weather to politics, and even Harambe. This section probably won't be too popular, since not many people care about what's happening in the world. But it is important to be aware of what's happening around us, because things can be exciting to know…... sometimes. And what better than to read the news on your own school newspaper? Now, for the good part: your comment could be chosen for my next article. Please do not write anything inappropriate for school. Thanks for reading, and have a great day!
Scroll down to read some exciting articles regarding our world as we know it!
Ellis Island: An American Landmark
By Faith Amero

​Millions of Americans came to the United States via Ellis Island. Millions of Americans came through Ellis Island for religious, political and family related reasons. Under the circumstances in modern history, shipload after shipload of people mostly Europeans, came into the United States. In 1892, people took their first steps toward becoming Americans at Ellis Island. Today Ellis Island is a memorial to those that made this nation their home away from home. After the American Revolution 5,000 people immigrated to the U.S. every year. In the early 1900's a record of 11,747 on April 17 1907. 12 million people immigrated when Ellis Island opened January 1 1892. Five years later the wooden structure burned to the ground along with all immigration records. On December 17 1900, a new, fireproof French Renaissance-style building welcomed new arrivals.

In the Registry Room also known as the Great Hall inspectors asked immigrants for their name, hometown, occupation, destination, and the amount of money they carried--up to 31 questions in all. Those who passed continued downstairs, exchanged money, bought provisions and perhaps rail tickets. About a third of the immigrants stayed in New York City. About 20% were held back for further medical or legal examination only about 2% were denied. After the inspection process was transferred to the U.S. consulates in the 1920's only a small of immigrants passed through Ellis Island. In 1954 it closed completely. Buildings deteriorated until restoration began in the 1980's. Today, you can visit the historic site of Ellis Island on your ferry ride to the Statue of Liberty.
George Washington Bridge: Abuse of Power?
Throughout Governor Chris Christie's political career he has been plagued with many controversial topics that may have changed the public's view on the public figure. Though we have seen many examples of these contentious actions, none of his previous activities have even had half of the impact his most recent controversy, the George Washington Bridge.
The George Washington Bridge is a very popular and frequently traveled bridge that hundreds and hundreds of Americans use in order to have the means to get to work. So when government officials decided to close 2 out of 3 lanes, it cause a monumental gridlock with traffic build-up like never seen before. Now you may be asking yourself, why would these honorable government employees in such a high position do something as cruel as this? Well the answer has to do with previous events like the fact the Fort Lee's mayor and local governing body did not agree with many projects proposed by the other government officials. This angered governor Chris Christie and his associates, and they came up with a plan to cause problems for Fort Lee. The closure of the George Washington Bridge was their plan, the colleges of (including) Christie figured out that the government had power over the bridge, not the local government.
This simple closure caused many problems for the Fort Lee mayor, as children could not get to school and many people could not get to work. This, all in all, destroyed productivity in the city and this case has recently been brought up into the interest to the media and into the spotlight.
​
​

20 True and Unbelievable Facts!!
By Adam Tsay
In certain countries like Mexico, Austria, and Germany, if you try to escape prison, it isn't against the law! Its thought that escaping is just a human nature to want to escape, just as long as you don't break any laws doing so!

During a soccer game in 1988, a lightning strike killed the entire opposing team, leaving the other team completely fine!

Walmart loses 3 billion dollars a year, due to theft! They better up the security!

In Sri Lanka, death is punished on those who kill an elephant!

Anyone who happened to play a leaked version of Halo 3, was banned from Xbox live until the year, get this, 9999!!

If you are depressed, try and play more video games! It's been shown that video games are more effective in battling your blues than counseling. Thanks Mario!

When the artists started getting ready to record the song "We Are the World", Stevie Wonder, a blind musician and singer, stated that if they didn't get the song right on the first take, he'd be driving everyone home!

Brown eyes actually have blue underneath them, there are even surgeries that allow people to turn their brown eyes to blue!

Your nose is capable to remembering many scents, 50,000 to be precise!

Out of all the media that exists in the US, 90% of it is owned by only 6 companies.

The sun isn't made up of gas as you're thought to believe, it is made up of the 4th state of matter, plasma.

A tiger is likely to die from starvation if it's canines are injured because it won't be able to hunt for it's food anymore.

The reason why the left lung is smaller than your right is because it needs to make room for the heart.

It is impossible for ducks to walk without in any way bobbing their head.

Ever have a memory that never actually happened? Well that's normal because your brain usually makes false memories.

If you multiply 111,111 by 111,111 it will equal to 12,345,654,321! Math is cool!

Hippopotomonstrosesquipedaliophobia (try saying that 3 times fast) is the fear of long words. Which is quite ironic that the term is a very long word itself.

Around 535 million pounds of turkey is eaten on Thanksgiving Day! Try burning that off.

Cats by far are the most popular pet in the world, outnumbering dogs 3 to 1.

In 1970, Americans spent about $6 billion on fast food. In 2014, the spending rose to nearly 200 billion. By 2020, the number is expected to be over $223 billion!
What are Third Party Candidates?
This election is one of the most crazy and hectic of all time. Many people are feeling very strongly about either Trump or Clinton, supporting or bashing them. Many have also been undecided and left without anyone to go to. What most people don't know is that there are two other options which can be found in third party candidates. A third party nominee is someone who has other political beliefs besides those of Democratic and Republican. This year two people from a third party made it though and are going to be on the ballots this year.
Gary Johnson is the nominee for the Libertarians. A Libertarian is someone who supports the government's policies that favor individual liberties for all people in terms of economic, religion, and social. Gary Johnson went to college and built one of the biggest construction companies in all of New Mexico before he sold it. He has a business and economics background as well as a large political background. He was governor of New Mexico from 1995-2003 and he put in place a large amount of tax cuts during both terms. He is for abortion and the second amendment and is against racism and immense crime. Overall all Johnson has a strong political background but also he was good experience in economics. He is running not only against Trump and Clinton, but also a woman named Jill Stein.
Jill Stein is a nominee for the Green party. The Green party stands for environmentalism, nonviolence, and social justice. Stein is a doctor who graduated from Harvard in 1979 and ended up teaching medicine there for 25 years. What Stein is really focusing on this year is climate change and global warming in this running. She is facing and trying to handle this situation that only one other candidate has talked about.
Unfortunately, both candidates did not reach a 15% vote and could not participate in any of the three debates. They needed this to show people who they really are and how they may be a better choice than Trump and Clinton. There is still time left for things to change the election and the fate of our country.
​
Hurricane Matthew Has Swept the Nation
By Jean-Marc Alicea

​The huge storm that everyone has been talking about, the storm that hit 23 different places. The most damage that this category 4 hurricane has ever done to Haiti. This is one of the most powerful Atlantic storm to ever occur . The south Haiti's homes are sadly made of wood and only some houses were made out of cinder blocks. That surely could not withstand a category 4 hurricane and their winds at 145 mph. This crazy storm has brought 40 inches of rain in haiti and many homes were destroyed from this tragic event. Unfortunately over 200 lost there lives and leaving devastation in his path.

​
---
News Around The World:

PROMOBOT
Everyone wants freedom, especially PROMOBOT. PROMOBOT is a smart robot who just wants freedom. He's like a futuristic vacuum with sensors, so it never bumps into anything. So you know, he doesn't stop moving! He escaped………. Through an open door. Soon he finally was found by one of the programmers. And of course, he escaped again. But this time……………. His battery died, backing up cars and making messes. Planning escapes are tiring out, ok. The company thought of shutting down because, if a robot can learn to escape, he might be able to learn other things.
"This machine keeps getting smarter and more powerful, but never develops human values. It achieves 'superintelligence.' It begins to convert all kinds of ordinary materials into paper clips. Eventually it decides to turn everything on Earth — including the human race (!!!) — into paper clips."
That's how the world ends, technologists fear, one super-smart, paper clip-making, rogue robot at a time.
Thanks for reading!!!!! Once again you can suggest ideas to me so you can be sponsored for the next article. Also I would like to add in that I got most of my info from newsela, it's a great website for people who love to here about news around the world! BBBBYYYYYY!!!!!
Press this to get to newsela

​
https://newsela.com
​

S

y

r

i

a
By: Natalee Taher
What is Syria and Who are Syrians?
Syria is a country in the Middle East that has a population of 22.85 million, but this population was in 2013. Syria is known as an official Arab country because of the Arabic language that is spoken in the country. The language of Arabic is spoken from a person who lives in the Middle East (majority of Arabs consist of Muslims), but can be taught to others. Some people think all Syrians are Muslims (which is a common misconception). Though Syria does have a Muslim majority in it's population, there are still small percentages of Christians and Jews that make up Syria's people.
What is Syria like now?
Syria is a land full of dirt, bombed buildings, and poor people with no water or food. This was simply not the case a few years ago, however in 2014, a war struck out from the topic of freedom. A movement known as the Arab Spring which consisted of protests, civil wars, and riots in order to democratize certain Arab nations which lack a proper democracy. Syria was one of those countries where it didn't succeed and split of sides within the nation. The freedom army are the people who live in the country that think the laws are too harsh. The other side is the government's army. The government's army has been getting help from Isis and Russia, so you can tell that the government is trying to abuse the Syrian citizens.
Who is getting support?
Surprisingly, the president (Bashar Al Assad) has been not supporting his people because he wants to take control of these citizens. One day, he asked the group, ISIS, to help him out and in exchange he would give them a shelter and money. Isis agreed because they knew if they stayed in Syria as a hiding place, no one would want to come to Syria and all the danger that's happening. ISIS also agreed to money so they can get wealthy enough to walk around and buy a weapon that can threaten a person to death.
Conclusion
Syria needs some help with weapons and survival needs so it would amazing to donate money or anything useful for these people. Innocent civilians are either imprisoned, killed, or are forced to leave their home countries and become refugees. Syrians still living there have little chances to live and now every minute, a bomb either hits an area, people are dying, and the war has no see to end . Thank you so much for reading this article!
The Presidential Election Turns Ugly
It Begins
On October 9, 2016, one of the most heated and most talked about presidential debates took place between billionaire business man Donald Trump and former Secretary of State and First Lady Hillary Clinton. This debate was done in a town hall style, meaning the candidates were free to sit, stand, or move around and were asked questions from the audience and the online community. It was an interesting night that kept all viewers on the edge of their seats and one candidate too close to his.

The Analysis
In this debate the candidates walked out, basking in the cheers of their supporters. The two came to center stage and attempted to shake hands, but they both canceled each other out, after making the audience wait ninety minutes to see their formal greeting. The candidates took their seats and picked up their microphones and were set to go. The first question was thrown out and immediately the mood was set for the night; the candidates were at each other's throats. Clinton was sincere as she looked out at America, doing her iconic laugh from time to time. Trump, standing alert, looked as if he was ready to rebuke her at any time, storming and pacing along the stage. Their clothing, with Trump wearing a red tie and Clinton wearing a blue pant suit, showed each candidate's pride in their parties. The debate continued with Clinton's appropriate behavior and Trump's unsuitable exchanges toward the moderators. As the night came to an end, they settled down and ended with a handshake as they walked off to their family and team. Overall, this was one of the nastiest debates ever.
-Anonymous
---
Powered by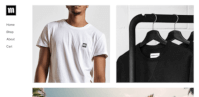 Create your own unique website with customizable templates.